These days having a good thermostat, isn't just about keeping your home at a comfortable temperature. The latest smart thermostats have transformed the way we heat our homes. New technology can help you save on energy bills with features such as app controls, zoned heating and home-away detection.
Smart thermostats allow homeowners to be more environmentally and economically aware by cutting down on energy consumption. Complete with internet connectivity these devices collect and analyse data, to 'learn' a household's heating and cooling preferences including temperature choices and routines.
For example, during the cooler winter months, a smart thermostat will learn when to start heating a home so it is cosy for when your family returns.
Image
Name
Honeywell T6 Wired Smart Thermostat - Works with...
Honeywell Home Wi-Fi Smart Color Programmable...
Evohome smart wireless zoning thermostat - works...
Image
Name
Honeywell T6 Wired Smart Thermostat - Works with...
Image
Name
Honeywell Home Wi-Fi Smart Color Programmable...
Image
Name
Evohome smart wireless zoning thermostat - works...
Last update on 2022-05-05  / Images from Amazon Product Advertising API
These devices are not only 'smart' they are also convenient, smart thermostats enable you to control your heating from your smartphone or tablet, allowing you to change the temperature of your home if you're out and about or having a cosy lie-in. Most – like the nest learning thermostat – are compatible with home smart systems including Amazon Echo and Google Home.
There are lots of choices, wide-ranging in features, here is just a few.
Honeywell Home T6 Smart Thermostat 
The Honeywell Home T6 Smart Thermostat is a great kit for anyone looking to control the temperature of their home remotely via smartphone or tablet. The Honeywell Home app allows homeowners to schedule and synchronise their homes heating system wherever they are. Through geofencing, the app can use location data to determine whether you are at home or away.
Sale
Honeywell T6 Wired Smart Thermostat - Works with...
Simple touch-screen interface. The T6 touch-screen makes scheduling, changing and overriding temperatures easy with a...
The Honeywell Home app gives you complete control over your home heating wherever you are, including schedules and...
Last update on 2022-05-05  / Images from Amazon Product Advertising API
Default settings include scheduling divided into three modes: Home, Away and Sleep. Unfortunately, Home and Away settings are only activated by location and scheduled mode disables any geolocation capability.
Scheduling can seem clunky but you can programme the smart thermostat to suit any lifestyle including 7-day, 5/2 day and single day scheduling with up to 6 different time setting per day.
This device is also compatible with a range of smart home connections including, Alexa, Google Home, Apple Homekit and IFTTT. Connected homes will be able to make changes of temperature and scheduling from devices including Apple Watch and Alexa.
The 'optimum start and stop' boiler control feature, allows the thermostat and boiler to work more efficiently together, saving money on your energy bills. Whilst built-in TPI (Time Proportional & Integral) controls just switch current supplied to the boiler on or off.
The T6's integrated system ensures the boiler fires for the minimum amount of time required to maintain required temperatures, increasing efficiency. This kit also includes frost detection protection, ensuring the pipes will not freeze if the temperature dips too low.
This smart heating thermostat has a small and stylish design size that will fit into any home. The T6 Series features three models; the wired T6 and the wireless T6R, and the T6T-HW that is wireless with added hot water control. The T6 and T6R Thermostats are suitable for most heating systems including combination and system boilers and can be used as part of both S-plan and Y systems.
Unfortunately, some users have reported problems with set-up and connection to the wifi system. Set up can also sometimes prove to be complex including the use of existing wires once the older thermostat is removed and the wired set up must be in the same place as the old thermostat.
This smart thermostat also does not have the features and adaptability of some competitor products, one large downside is that schedules cannot be set when geolocation settings are enabled. This model does not include hot water setting control either.
Honeywell Home RTH9585WF1004
Best suited to a connected home, this second-generation wi-fi connected smart thermostat is simple but packed with a number of great features. This product is great for someone looking for a simple smart thermostat!
The bright full-colour touch screen has several different themes to choose from. It not only displays the indoor temperature, this device also tracks indoor humidity level, time and temperature at which the thermostat is set. A weather option also shows you information about the day's forecast and will alert you in the event of temperature extremes.
Honeywell Home Wi-Fi Smart Color Programmable...
COMFORT COMES IN YOUR COLOR. Personalize your Wi-Fi Smart Color Programmable Thermostat to fit your décor.
YOUR SCHEDULE. YOUR WAY. Flexible programming options for your schedule or utility company's peak rate pricing.
Last update on 2022-04-28  / Images from Amazon Product Advertising API
While extremely easy to use, this device does lack in some of the smart features that are available with other smart thermostats. For example, it lacks geofencing capabilities so your heating won't turn off or on based on your location, unlike some competitor products. The Honeywell Total Comfort App lets you control your thermostat from your phone or tablet.
It lets you view the 5-day weather forecast, create a schedule and even order air filters. The app will help you create a schedule or you can customise it day-by-day. Quick schedule changes allow you for temporary holds or holidays and can be restored in an instant.
Monthly energy reports can help you track your heating and cooling habits and produces personalised tips on how you can reduce your energy usage. It is compatible with the Honeywell Home app. The thermostat can be controlled remotely from the app. The device is compatible with Alexa, Google Home, Smartthings and IFTTT. Voice commands can also be used through voice assistant devices like Amazon Alexa, Google Assistant and Cortana.
This smart thermostat is designed for DIY installation, with an extensive user guide and if you can install light fixtures it should manageable. However, having a C wire is essential to this process, if you're unsure about this, asking a professional is always advisable. The system is incompatible with heat pumps with electric baseboard heat. The thermostat is energy star certified and can be set to both automatic heating and cooling. Unfortunately, some online review reported the back-plate to feel a little cheap.
Honeywell Home THR99C3110 Evohome 
The first multiroom heating system, this product allows you to create and individually control up to 12 heating zones around your home, making it one of the most flexible products on the market. Through the full-colour touch screen interface, the device can be used to schedule, create zones and personalise your temperature and hot water settings so everything's just right for you.
Evohome smart wireless zoning thermostat - works...
Next-Generation Thermostat: The evohome is the brain of your home heating system. Create and individually control up to...
Full-Colour Touchscreen Control: Users can quickly gain control of exactly where and when the property should be heated....
Last update on 2022-05-05  / Images from Amazon Product Advertising API
This device is compatible with Amazon Alexa, Google Home and IFTTT and can be plugged anywhere in the home as it is Wi-Fi enabled. Remote access via smartphone or tablet can keep you in the know. Unfortunately, this system is not enabled with geofencing technology, so the heating can't be turned off when you leave your home.
Equipment-wise, the Evohome is at a higher price point with it costing £215 at its cheapest, capabilities including additional boiler relay for hot water control involve extra cost. Additionally, this product does not come into its own unless the TRV's are added and room-by-room heating control is made possible. TRV valves are what enable you to adjust the temperature of individual radiators.
Although the system can be self-installed, professional installation is advised and will probably cost you around £100. The complexity of installation and the number of radiators you want to control can bump up the cost. The Evohome helps with the installation of multiple temperature sensors around your home without altering pipework or damaging fixtures and fittings. A fully flexible system is bound to require a significant amount of work.
Ultimately, after the initial costs not having to heat the whole house, will save you money on heating bills. Once you have calculated what temperature suits different rooms will suit each room best, the system will learn about your behaviours and know when to turn the boiler on to achieve the right temperature when you want. The economy mode is also handy for people looking to save money by reducing temperatures by a few degrees everywhere.
All the components of the system are made with the same white plastic which for many is unattractive and there are competitor products which are more design aware. However, the large control screen proves to be a functional design. The main dock the control sits on is a charging dock so it can be temporarily moved so you can move around the house.
10 Things to Consider Before Buying a Smart Thermostat
If you are thinking about purchasing a smart thermostat for your home, then there are a number of things you should consider. Factors like how much it will set you back and where you plan on fitting it in your home are just a few important things worth considering.
Below are some other factors that you should be aware of before jumping on the new wave of heating and cooling your home.
Cost
It's no surprise that a smart thermostat isn't cheap to purchase or install in your home. A more high-end unit can be quite expensive and that's not including the cost of the installation which some units require.
You can end up spending quite a lot if you plan to purchase a smart thermostat. Since the units can be quite difficult to install on your own and it is suggested to hire a trained professional to install.
Compatibility
Not all homes are compatible with smart thermostats. Most thermostats work with low voltage systems, so it is important to make sure your house is compatible with the smart thermostat system you are wanting to purchase.
The common household system is the low voltage system and you can check the compatibility of your home online. Many smart thermostats also work with all common fuel types like electricity, natural gas and oil.
It is also important to note that if you have an existing air conditioning or heating unit, you might need a more sophisticated system that may be more expensive.
You may also end up running into more compatibility issues and you should consider checking this before commencing installation.
Availability
In today's current day and age, many people are working, learning and teaching from home. If this is the case in your house, as it is for a lot of people this year, it may be futile to buy a smart thermostat system.
Although working from home has its perks, it isn't the best-case scenario for those who are looking to purchase a smart thermostat system.
If you have many people home at different hours of the day it may be difficult to adjust the temperature accordingly. Most people who have a smart thermostat set it to be a different temperature when they are out of the house to save money and if you and your family are in your house all day you may not be able to do so.
Programming
If your smart thermostat is not set up or installed correctly, you may not see any savings. These systems are very technologically advanced and require a lot of learning and reading to figure out. You control the system from an app on your smartphone and that in itself can be confusing.
A smart thermostat is not just something you can set up and forget about, it takes a bit of time to learn all of its functions and to figure out how to use the system on your smartphone. If you are not interested in reading a manual to learn all the new software and buttons, this system may not be for you.
Another issue you may run into with programming a smart thermometer is how accessible it is.
Since everyone with access to Wi-Fi and a smartphone can change the settings on the thermostat it may become problematic if you live with roommates or family members that can't agree on temperature.
Wi-fi
Smart thermostats rely on Wi-Fi to function, and if yours is patchy then there is a high chance that you may run into some issues. While the systems are able to act like a normal thermostat when Wi-Fi goes out, this can still cause some problems.
There have been some horror stories of smart thermostats turning off and not notifying the homeowner. In these cases, the homeowners returned from vacation to frozen and burst pipes.
Movement
If you work from home and are sitting at your desk all day, you might want to reconsider purchasing a smart thermostat.
The systems are so advanced that if you are sitting and not moving for a long period of time, they may think you are gone and adjust accordingly. While this isn't a pressing issue, it may become annoying over time.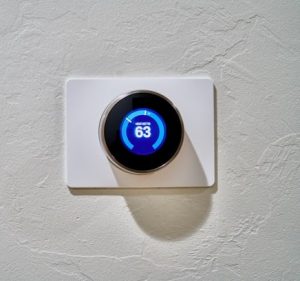 Temporary Housing
It's no secret that the purchase and installation of a smart thermostat may cost you a pretty penny. If you're living in temporary housing, a smart thermostat is not a suggested investment.
Many people today live in apartments or rental homes that are not permanent. The reason these people may not want to purchase a smart thermostat is that it can take quite a while to see your investment pay off.
With the system, you save small amounts each month and if you aren't planning on staying in your current living situation, you probably won't see the money you spent upfront back.
Privacy
It is no shock that large tech companies, such as Google, own these smart thermostat brands. A lot of people do not feel comfortable with how much of their information is already shared.
With the purchase of a smart thermostat, these companies know when you are at home or when you are on vacation and if you don't feel comfortable sharing that information, a smart thermostat may not be for you.
Security
Along with any device that is connected to Wi-Fi, a smart thermostat may be prone to cyber-security threats and hacking. Although this is not common, there is always a possibility this may happen to you. In all fairness, this is a chance that we all take each day when using any smart electronic system.
Placement of Thermostat
Smart thermostats performance depends on where it is installed in your home. If you plan to install the thermostat in places like a hallway or near any fire or electrical heating device, the effectiveness of your thermostat may be affected.
If you place your thermostat in a hallway it may not perform well because of how limited space is. If you place it near any sort of heating apparatus or device that can also interfere with the device because of the heat that may be being expelled.
There is a lot of research that needs to be done before you jump into the purchase of a smart thermostat; make sure you know it's the right choice for you!
Final Thoughts on Honeywell Wifi Smart Thermostats
Smart thermostats are quickly becoming a common sight in the modern home – allowing homeowners to adjust the temperature of their home from their smartphone and tablet and reduce energy consumption. There a wide range of devices to choose from and most can be connected to other smart home devices like Google Home and Alexa.
The more advanced devices like the Honeywell Evohome give you the ultimate control allowing you to set different temperatures around different rooms in your home. The most recent smart thermostats including the Honeywell T6 device include geolocation technology which tracks your location and adjust the temperature of your home when you're near.
The data collected by smart thermostats allow your heating to be more efficient so you can be both cost and energy-efficient. Professional installation is often advisable for more complex systems and always check your plumbing systems are compatible before purchase.
Homeowners looking for a simpler thermostat can opt for Honeywell Home RTH9585WF1004, which still has vast scheduling options and temperature tracking. An informed purchase is best advised!