If you grew up in a home with no central heating, I'm sure you'll remember the constant scraping of ice off windows on many winter mornings. At those times, you needed to wear additional clothes just to keep warm.
There was really nothing else to do.
The subsequent emergence of North Sea Gas meant that it wasn't so expensive to have home heating systems anymore. It didn't take that long for this to become a normal thing for new homes.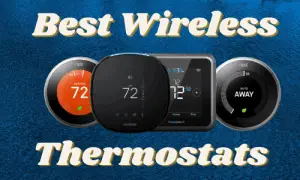 Granted, its expenses were still a problem for a lot of families. Also, it was a battle to control the temperature during these times. Systems were normally switched on or off just to conserve heat and energy. This continued until the advent of thermostats – machines that could do it automatically. This meant that you didn't have to get up at odd hours to switch off the heating system. It might seem basic, but this was a really important innovation at the time. And it still is.
As a result of advancement in technology, users of thermostats can remotely tweak the temperature and heat in their homes through their laptops or smart devices. This has gone a remarkably long way in decreasing the electricity bill because users will only heat their houses when it's needed.
The following are some of the best wireless thermostats available on the market. Hopefully, this guide will help you to make your choice.
Netatmo Smart Thermostat
If you are someone that would like to control a boiler using voice command, then the Netatmo Smart Thermostat is for you as it is capable of this. The manufacturers of this thermostat claim that users will be able to save at least 37% of energy.
This product also comes with a remote control which means that you'll be able to tweak the settings from different locations with the help of your computer or smart device.
Last update on 2022-05-02  / Images from Amazon Product Advertising API
Verbal controls can even be used with the help of Alexa, Siri or Google Assistant.
One good thing is that this particular thermostat is compatible with a lot of boilers. It works well with oil, wood and gas-fired boilers as well as heat pumps. Irrespective of the kind of system you use, you can rest assured that this thermostat's compatibility will cover it.
With mobile functions provided, you will be able to control hot water and heating from anywhere with the help of any smart device ranging from a tablet to a computer. You can also preset heating periods with the central heating system that will suit your preferences.
The thermostat also has the Auto-Adapt feature that will use surrounding temperatures and insulation to program your heating. Additionally, the Auto-Care function gives you information on any issues that arise during its operation.
The SALUS IT500 Thermostat
This is an internet-controlled system that works with an already existing broadband connection. This particular thermostat has a range of features and advantages that make it very efficient.
The design of this unit was nicely crafted with large and simple to operate touch screen controls that projects all the needed information in one glance.
Last update on 2022-05-02  / Images from Amazon Product Advertising API
The fact that this thermostat has a wireless connection means you can put it anywhere in your home. However, the best part is that you'll be able to completely control the thermostat with your phone, laptop or tablet. This means you'll be able to tweak the settings while at work, on a date or anywhere else.
This will come in very handy when you're away from home. You can ensure that your home or water is properly heated before you get back. You can also decide to reduce the heating so as to conserve energy if you think you'll not be at home for an extended period of time.
Even if you'll have to pay a premium for this kind of model, we are still of the opinion that this thermostat is brilliant value for money when compared to similar models.
For its price, you'll get the thermostat, a stand, gateway, receiver, ADSL cable, batteries, power adaptor, and screws for fixing the thermostat to a wall.
As well as controlling your hot water and central heating, it will also control your underfloor heating. You can also decide on two-zone heating, just in case you decide on splitting your home. You will be able to control both sides separately.
However, unlike other thermostats, this model doesn't have voice assistant integration. So, if this is something you're actively looking for, then you should consider getting another thermostat. But if you just want a simple thermostat with remote control, then, you can purchase this particular one.
Drayton RF601 Thermostat
With this thermostat, you will receive complete on and off settings. You'll also get minimum and maximum temperature control, meaning it additionally acts as a temperature controller. It also comes with a receiver that communicates with the boiler, meaning you have complete control.
Last update on 2022-05-02  / Images from Amazon Product Advertising API
Due to the fact that is an RF model, there isn't any internet compatibility – meaning you won't have the other models' smart functions.
This thermostat also has a neat design. One thing we like in particular is its tactile dial that is simple to use and also used for changing the temperature and a host of other functions.
It has a one-button function that is used to reset it to the former one-off time. This is helpful if you need to quickly put on the heating without having to reprogram. This thermostat does its job well and for its price, we feel it is very competent and effective.
Computherm Q7RF
For wireless thermostats, models with radiofrequency are quite popular among users. This particular model is a different kind. It is a normal transmitter and receiver design. One of them is the mains (with the regular large LCD screen that shows the time and selected off and on spots) while the other is battery powered.
Last update on 2022-05-02  / Images from Amazon Product Advertising API
You can also decide on multiple programmes for different days, which can be useful during the weekends when you might be indoors for longer periods. It is also quite easy to set up, which is quite important.
The temperature range rises in increments, meaning you can accurately set it up. It also has a voltage design that is switchable, so it can run on 230V as well as 24V systems. For additional versatility, you'll be able to choose as much as six time zones during the day. Also, with it having a range of 50 metres, it can be placed at any part of the home without its operation capability suffering.
Its top-notch flexibility and functionality make it one of the best wireless thermostats for its price range. It also features an extensive radio frequency range. The simple design increases its portability.
Siemens RDJ10RF Thermostat
This is another thermostat of radiofrequency, and a model that is between the less pricey models and the more expensive ones. It has a neat design and the mere fact that it was designed by a familiar name in the technology industry, we believe that this thermostat is very capable of doing a competent job.
Last update on 2022-05-02  / Images from Amazon Product Advertising API
With this thermostat (and most others), you'll select the temperature and time that you'd like the water and heating to come on.
This information will then be communicated with the receiver unit who in turn then relays the information to the boiler. Its display is simple to program and easy to read. It also offers you a plethora of options.
This thermostat provides several operating options, which include automatic and energy saving. Its users will also get the Frost Protection function – a very important feature if you want to stop the occurrence of burst pipes. This can be quite expensive to repair, so it is better to prevent it.
The transmitter is powered by batteries while the receiver is powered by mains. You will be able to place the transmitter anywhere you want – as far as that place is within range.
All in all, it does all that it was set up to carry out. For its price, this low energy thermostat provides a handful of functions in a simple but effective design package. This model will be particularly popular among people looking for great thermostats but are on a budget.
It also comes with a peculiar heating preset design. With multiple thermostat operating modes (comfort, automatic, frost protection and energy saving), users will have an array of choices that will suit their different needs. Its design enhances the efficiency of the thermostat – as well as its focus – which then allows it to perform in a more effective and faster way.
The LCD screen is simple to read, while the live data can be manually managed on the thermostat with the help of a knob.
Its wireless control is as a result of the connection between the transmitter and the receiver. This thermostat has basic settings, so making use of it in the home will not be difficult.
What to Look for when identifying the Best Wireless Thermostat
Here, you'll see some tips for purchasing an effective wireless smart thermostat for your house.
Control Options
It is a fact that smart thermostats are more complicated than their conventional counterparts. With the conventional thermostats, all you need to do is push a button or turn on a switch to change the temperature or execute other functions. However, this is absolutely not necessary for a smart thermostat.
Most of these models are usually operated automatically. Regardless of this, it is advisable that you go for a thermostat with both automatic and manual controls.
Remote Access
It is also advisable that you select a thermostat that has remote access. This will provide you with the ability to control the thermostat wherever you are in the world. You'll have access to it and can adjust the settings with your phone, tablet or laptop.
Just ensure that you check if the app is compatible with the operating system of your phone or tablet.
Compatibility
It is also important that you consider compatibility when selecting a smart thermostat for your home. The thermostat has to be able to work with the central heating system already in your home. Some thermostats work well with low-voltage systems, with some others more compatible with high-voltage systems.
You need to find out what kind of system you own before embarking on thermostat hunting. If you don't do this, you're likely going to get a thermostat that is below par.
Easy To Install
As much as it is hard to believe, installing thermostats can be quite tricky and difficult. It might be easier for people who have done it before, but for the newbies, they might end up completely messing things up.
This is the major reason why you need to select a wireless thermostat that has an easy or simple installation process. This will reduce the probability of trial and error and will allow you to set up the thermostat faster.
The C-Wire
A handful of thermostats actually need a C-wire. Some other models are accompanied by a power extender, which then gives the user the freedom to include a C-wire. You can also decide to get a third-party adapter. No matter what you decide on, just know that the C-wire is really important for smart thermostats.
In its absence, constant power will not be able to be delivered to the Wi-Fi, display and the rest features. If you don't own a C-wire, you should ensure that you select a thermostat with an accompanying power extender. However, you can choose to purchase a thermostat that doesn't require a C-wire.
Warranty
Almost every thermostat currently on the market comes with some kind of warranty. It is advisable that you find the thermostat with a lengthy warranty. If you don't do this, there exist a possibility that if something happens to the thermostat, you'll have to address the issue on your own. A lengthy warranty period will give you more protection as well as peace of mind.