The Stainless Steel Living Flame Gas Pyramid Patio Heater is a new and impressive outdoor design living flame gas patio heater with a quartz glass tube that is innovative and efficient, featuring a torch-like flame which is totally oblivious to the wind and provides enough heat to keep you warm in your garden warm all day. It also comes with a free full-length protective cover.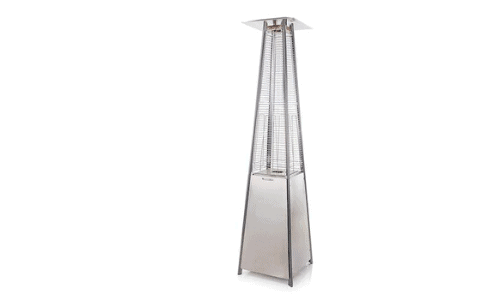 It's a quite spectacular-looking heating device (See Price on Amazon) that comes with a tall pyramid shape and a living flame feature and is powered by gas so it is easy to find a place for it in your garden and quick to light. It is also very imposing as it stands more than two metres tall.
No products found.
It comes with an aluminium reflector on top of the Pyramid Patio Heater helping to exaggerate the heat distribution. It also features anti-tip technology for added safety. The attractive stainless-steel finish adds to its beauty, and it really will make a fine feature in a garden or patio situation. It wouldn't typically be used to warm up when out camping, as the size when set up is more suitable to a garden.
It comes with everything you need to get going – apart from the gas bottle – and is one to consider if you want something very different.
It is a floor-standing heater, but comes with wheels and has a slick stainless steel finish. It features a flush panel to the front that hides your gas canister inside the base and also has a built-in piezo battery ignition, including a free gas regulator and hose, so it's easy and quick to light, and safe to use every time.
This Stainless Steel Gas Pyramid Patio Heater comes with a piezo battery ignition which allows users to light up the pyramid heater quickly, easily and as safely as possible. This gas patio heater works using propane or butane gas,  it does, however, come with a free regulator that can be used specifically with propane bottles.
There are two wheels towards the rear of the unit which make it easy to move the Living Flame gas patio heater to new locations in your garden making it suitable to different occasions or garden layouts. The A-frame pyramid design gives it additional weight and stability. On the odd chance that the patio heater happens to be knocked over, there is an anti-tip safety system installed that will shut off the gas and reduce any chance of a fire being ignited.
Key Features Stainless Steel Living Flame Gas Pyramid Patio Heater
The long working life-guaranteed glass tube is very well made.
It has decorative stainless steel that houses the flame heater. This provides both heat and ambient light which is perfect for creating a warm ambience on your patio or terrace.
The Stainless Steel Living Flame Gas Pyramid Patio Heater is an ideal gas patio flame heater for both domestic and commercial use.
It has a reliable electronic igniter
Pre-assembled base
Convenient wheel assembly
It has protection guards.
12 kW output.
Safety auto shut off tilt valve.
No products found.
Is this patio heater suitable for home or commercial use?
The pyramid living flame heater is suitable for both home and commercial users. It suits the aesthetics in many gardens adding a touch of class. This patio heater is ideal for outdoor dining in the garden as it keeps you warm while you have a bite to eat.
Pros And Cons Of The Stainless Steel Living Flame Gas Pyramid Patio Heater
Pros:
Excellent heat output
Stylish design
Strong and stable
Excellent Safety Features
Beautiful and original
Cons:
High gas consumption on full power
Can be fiddly to put together for the non-DIYer
No products found.
Final thoughts
Although, the running costs can be higher than normal if used consistently, you can't go wrong with this Stainless Steel Living Flame Gas Pyramid Patio Heater.
There is some assembly required but it's fairly simple to put together. If you're looking for a patio heater that is a show stopper for events or just want something to stand out on your decking or patio then this is the best stainless steel living flame gas pyramid patio heater for you.