If you live in a small apartment and you have very little spare space then you may need to consider getting one of the best radiators for small spaces. Small vertical radiators or small horizontal radiators that are stylish and can be easily fitted into place to warm up your space. But irrespective of the size of your room, you should not have to compromise on style and settle for tiny radiators.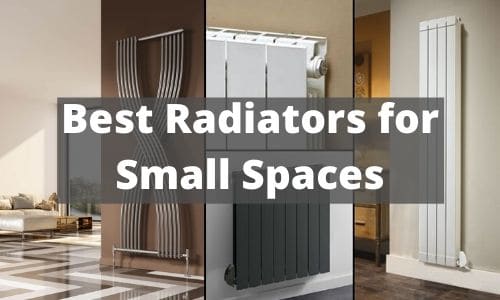 Click here for a quick look at our best recommended small horizontal radiators
The good thing is, there is a wide range of stunning towel rails and space saving radiators available for kitchens, downstairs toilets and small bedrooms.
Space-saving radiators and towel rails are the best two heating options available for your home if you are restricted to small spaces and small rooms.
Space heaters are good alternatives, but if the space you have is a bathroom, kitchen or wet room then a space saving towel rail might be a better choice.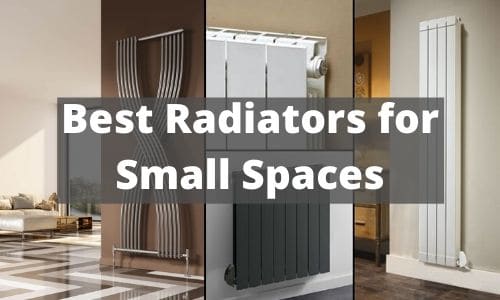 Best Radiators for Small Spaces:
1- Warehouse Horizontal Column Designer Radiator 600 x 1020mm
This stylish horizontal column designer radiator can be seamlessly fitted into any small interior. You can think of it as an instant design upgrade and you can fix it against a wall underneath a television or underneath a window where there is very little free space. The body of this radiator is easy to clean as it also comes in a pristine chrome finish.
Last update on 2023-12-02  / Images from Amazon Product Advertising API
The radiator design comes with compact fin columns helping provide the additional surface temperature. This durable and high-quality radiator is available in grey and white metallic looks. It adds a luxury touch to smaller rooms in your home while also keeping it warm, cosy and comfortable with its high heating output.

Main Features:
The radiator body is made of high quality mild stainless steel that makes it durable and long-standing.
Its horizontal column design allows you to fit this slimline radiator against walls where you there is little space – like beneath a mounted television or window.
The overall measurements of this radiator are 600 x 1020 mm.
The package is delivered coming complete with all necessary plugs and vents.
It gives a powerful heating output up to 2531 BTU.
The radiator is available in grey and white metallic finishes.
2- Warmehaus Electric Bathroom Heated Towel Rail Radiator 700 x 400mm
This is the very towel rail I own in my small bathroom. A top radiator model made and supplied Warmehaus. For 20 years, Warmehaus has been a trusted name supplying heaters and radiators, providing its customers with complete satisfaction. This towel rail radiator has a modern 14 bar design and has a smaller output of 150W.
Last update on 2023-12-02  / Images from Amazon Product Advertising API
This radiator will create a stunning focal point in your bathroom that not only looks fantastic but is highly practical too.
These radiators have become a modern popular product for small bathrooms due to their style and efficiency. This horizontal designer radiator looks fantastic in any kind of bathroom due to its 14 stylish curved bars. You will have more than enough space to hang towels. And its attractive chrome finish helps guarantee an extremely stylish bathroom.

Main Features:
The small size bathroom radiator has measurements of 700 x 400mm and can be fitted against a wall in a small space with a stylish look.
The body of this bathroom radiator comes with a chrome finish.
It has a power output of up to 604 BTU.
Its 14 bar design gives it a fantastic look.
The manufacturer – Warmehaus – guarantees the radiator for 10 years.
It is delivered as a pre-filled electric towel rail only.
3- Warmehaus Vertical Designer Column Radiator
If you want a beautiful, attractive and eye-catching radiator, then this vertical designer 3 column radiator is one of the best radiators for small spaces. This is a radiator manufactured by Warmehaus that, when installed, can become a standout feature in any home.
Last update on 2023-12-02  / Images from Amazon Product Advertising API
Its tall and eye-catching body has measurements of 1800 x 240mm making it a perfect space-saving radiator. Its vertical, tall and designer look shows your guests what you are doing in your interior design. It creates enough heat to warm up a single small room, hallway or small room.

Main Features:
Its body is made of durable high-quality steel.
Warmehaus guarantees it for 10 years, showing their confidence in the quality of the product.
The package includes all the fixings, plugs and vents to install it against any wall.
This contemporary oval panel radiator is available in different colours or metallic looks like grey and white.
The vertical column designer radiator is perfect for the bathroom, kitchen, living room and hallway to save the space.
4- Elegant Designer Vertical White Column Radiator with Double Flat Panel
Simplicity is the key to an uncluttered home and this Reina vertical column steel body radiator is an ideal product to give the impression that your home is larger and modern, with its stylish look.
Sale
Last update on 2023-12-02  / Images from Amazon Product Advertising API
The amazing flat panels give it a fantastic and stylish look. It is handy to be aware that this tall space saving radiator often looks best when coupled with those cooler tones. It also does a decent job of heating as well. This steel body vertical radiator is durable and functional enough to fit well into any small space in your home.
Main Features:
The radiator is available both in single and double panel categories. You have the choice of deciding between different panels according to the size of your room or space you want to warm up.
The manufacturer provides a 5-year manufacturers guarantee, helping to ensure the quality standards remain. Allowing you to use the slim radiator for long periods with full peace of mind.
This flat panel radiator is built with high-quality steel and comes with an impressive heat output to warm up the entire room.
Its minimalist flat-panelled design is ideal to be installed in any modern and contemporary interior.
This flat panel vertical designer radiator is one of the best radiators for small spaces available in two versions T50 & T60 with two different outputs of 2310/2185 BTU.
5- Hudson Reed Revive HLS368 Double Panel Radiator
The Hudson Reed HLS368 is an amazing space-saving horizontal designer radiator with its beautiful and fantastic eye-catching finishing. The design of the radiator is sleek and stylish to enable your home fit and trendy.
Sale
Hudson Reed Double Panel Radiator
Cool and Contemporary, the Revive radiator will be the perfect addition to any room. It is easier than ever to keep your...
The Revive radiator is available in a striking anthracite or cool gloss white finish. This radiator is ideal for any...
Last update on 2023-12-02  / Images from Amazon Product Advertising API
This horizontal space-saving radiator is perfect to install under the T.V or window or large covered wall space. HLS368 is a double panelled to provide more heating capacity and surface temperature. The manufacturer offers a 10 years guarantee to ensure the quality of their product. It has a durable structure and it will withstand with you for a long time. The radiator is heat and water-resistant.
Main Features:
This double panel horizontal radiator will be adding a stunning contemporary feature to any room with its fantastic look.
This Revive series model comes in two different versions as well as four contemporary colours.
The package includes all the fixing screws and wall brackets to install it directly on a wall.
The body of the radiator is made of high-quality mild steel and is durable enough to withstand for a long time.
It is double panelled to provide extra heat conductivity and uses electricity as fuel.
Types of Space Saving Radiators
Small vertical radiators are an ideal option when you have space constraints and but still have some space on a wall around your home. Basically, this is a space where a standard wide radiator wouldn't fit, but a slimline radiator or vertical radiator would.
If you get yourself a slimline vertical radiator, chances are you'll be able to fit in an awkward extra small space easily. The great thing with new designs now is that despite the small surface on vertical radiators, they are now manufactured to look very stylish and also come with powerful heating outputs.
Small horizontal radiators
On the off-chance that a vertical designer towel rail radiator does not fit in the space you have, then a small horizontal radiator will often fit. The key thing is to first measure your space and compare with the measurements on a vertical radiator, then consider a slimline horizontal radiator if space is smaller than first anticipated.
The good thing is you then have the option of placing it under some shelving, a mounted television on a wall or underneath a window.
Space-saving heated towel rails
When it comes to warming up a small space like a bathroom or wet room, then creative thinking and imagination are sometimes needed. As with most homes, the bathroom is usually the smallest space in a house. A compact towel radiator or a heated towel rail can be described as the best solutions to this problem.
The great thing now is that these sort of radiators now come in different styles, designs and sizes. Asides from its ability to heat, radiators like this are multipurpose products – they heat and also help in drying up the towel.
A lot of variety in models and brands of small radiators is available in the market. To select the right one for you can be a difficult task. To make this process convenient for you, we have organized this list of some best small radiators.
Final thoughts on the best radiators for small spaces
Making a small room in your house or apartment stylish and trendy is not the easiest task. It just needs a bit of imagination to help you achieve interior styling and efficiency all at the same time. All the minimalist radiators mentioned above are some of the best space saving radiators and ideal for making any room in your home cosy, warm and comfortable during the chilly winter days.
The radiator models stated above in this article are all designer radiators and stand out in your room when installed. Designer radiators are stylish, sleek and much slimmer than traditional radiators, so they also occupy a much smaller space. This is one of the reasons these radiators can be referred to as space saving radiators. They are also ideal because these towel rail designer radiators are ideal options for saving space compared to basic vertical or horizontal radiators.
Hopefully, this list of top space saving radiator models shows you the options available with great user ratings. If you want a space-saving radiator as well as a stylish look, then these are some of the best options available in the list. Ensuring you do not need to compromise on style if you have space constraints. The radiators described are the top models available and which one you decide on now depends on your taste, space and needs.