For most people, winter can get needlessly noisy and expensive during the cold months. Getting a quiet space heater for your bedroom will help eliminate those niggling issues.
But how do you decide on the best quiet space heater for your needs? The options available can be mind-boggling. Should you get an oil filled radiator? A ceramic space heater? A fan heater? A portable electric heater? The list goes on and on
Some of the key things you should focus on when deciding on a quiet space heater for your bedroom is that you should get one that does not tip over easily, one that comes with energy efficient credentials and one that supplements your existing central heating system with great safety features.
It might be a case that you need a quiet space heater just for a small and single area around your home. Or you might just need a decent fan heater to warm up your chilly home office or a bedroom in your home. The key thing is to decide on a ceramic heater or fan heaters that – on cold days – keeps you warmer than just having all your doors and windows shut.
Quiet space heaters are also an ideal choice because, when used in a bedroom, you can sleep like a baby without worry as the good ones come with amazing safety features and tip over protection. As an alternative, they can also be seamlessly used in an office without having to worry about distracting your work colleagues because it runs silently and smoothly.
It is also worth noting that a good quiet space heater can help you to maintain your home warmth effectively when you have guests staying over and don't feel like constantly having your central heating working.
So with that said, let's get to talking about the best quiet space heaters for bedrooms. The focus in this article will be to categorise the bedroom space heaters into the following types:
Convection Heaters
Standard Electric Space Heaters
Infrared or Radiant Heaters
Oil-Filled Heaters
Combination Heaters
The internet is awash with a huge amount of bedroom heater models and brands, so it goes without saying that it can be a difficult task choosing the best quiet space heater for your needs. As a result, I have listed out the Best Quiet Space Heaters for your bedroom to help you along in your research and investigation.
Best Quiet Space Heater for your Bedrooms
1.    Dimplex DXSTG25 Heater
Our top product is manufactured by Dimplex. Dimplex is a brand name that you can fully trust. This ceramic space heater has a powerful output of 2500-watt. It can warm up space within two seconds in a quiet way.
The heater is designed to fit seamlessly and stylishly in any place. It comes in a speaker or tower-style with a glass base. The manufacturer gives the guarantee for 3 years. This thing shows how the manufacturer is confident about his product.
Main Features:
This is the top and trusted product by Dimplex in the field of quiet space heaters with a powerful output.
The package includes a remote control to control the temperature lying in your bed.
There are built-in motors to oscillate the heat in all directions.
The design is very sleek, stylish and specifically designed to fit in small spaces with a contemporary and sophisticated look.
There is an LCD on the top with a remote control operation.
The heater has 3 heat settings and adjustable thermostat according to requirements.
2.  Pro Breeze 2.5kw Oil-Filled Radiant Space Heater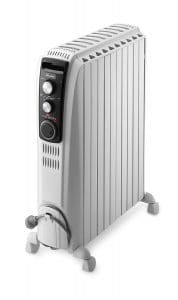 This is an oil-filled 2500-watt radiant space heater by Pro Breeze. It quickly and efficiently warms up the room of all shapes and sizes with a digital display and thermostat with a setting of your desired temperature. 
Its modern chimney construction accelerates the air to ensure faster and more efficient heating quietly than traditional oil-filled radiant heaters keeping your bedroom. This heater is perfect for rooms that require heating for an extended period with its powerful heating output.
Main Features:
There are 4 output settings available for energy conservation of 1000/1500/2000/2500-watt.
The heater is equipped with digital display and featured with wireless remote control.
There is a built-in timer for 24-hours.
The heater is portable with four swivel wheels to move it room to room.
The heater is featured with safety steps like overheating protection, tip-over switch, and automatic thermal cut-off.
3. Dimplex 3kW 403TSF Electric Convector Heater
This is a good quality heater with a powerful output of 3000-watt and fast enough to warm up a good-sized room within no time when the turbofan is used.
Its prominent quality to add this in the best quiet space heaters is that it can work without a fan for silent operation. The product is lightweight and easy to move around. It has a built-in digital timer and an LCD to show the levels correctly.
Main Features:
This is a 3kW convection heater and featured with a thermostat to control the temperature.
A built-in electronic timer up to 24-hour, LCD and turbofan boost make it a top model in best quiet space heaters.
The heater is enough for all good sized rooms to provide cozy, warmth and peaceful environment in winter.
Its design is sleek and slim to fit it in a small space comfortably.
The manufacturer gives 3 years guarantee to show the confidence in the quality of his product.
4.    Dimplex OFRC20TiN 2kW Oil Free Radiator Heater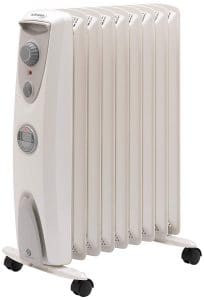 This is another good product by Dimplex. They have introduced new oil-free technology in this heater. The heater is lighter, efficient and economical in energy consumption with high output temperature. 
This radiator heater is designed in tower shape and comes with a built-in digital timer, 2 heat settings, and a thermostat control panel. The heater can warm up a good-sized room faster within seconds. Dimplex gives 3 years guarantee to ensure the quality.
Main Features:
The patented oil-free technology within the OFRC radiator is state of the art, offering rapid heat up and an efficient alternative compared to its oil-filled counterparts.
The heater has a powerful heating capacity up to 2000-watt.
With castors and integrated carry handles, OFRC is easy to move from room to room as required.
It can save energy up to 9% as compared to its oil-filled counterparts.
This quiet space heater is easy to control and use with 2 heat settings and thermostat control enable you to set the temperature you require.
5.   Pro Breeze 2KW Mini Ceramic Fan Heater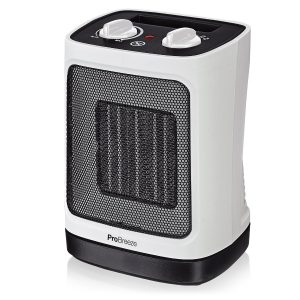 This 2000w mini ceramic fan heater utilizes ceramic heating discs for ultra-warm heat transfer in all small spaces. Ceramic heating is the latest technology in mini heaters and provides a faster, efficient, and safer method of heating than traditional fan heaters.
At the flick of a switch, a ceramic fan will rotate side by side to quickly warm a good-sized area. It is featured with a powerful output of 2000 watt to give you a cozy and warm room in no time. This is a perfect choice to use in personal spaces like a bedroom, an office under your table.
Main Features:
This is a new technology of ceramic fan heating with a powerful output of 2000watt.
The fan can oscillate in all directions equally to warm-up space.
There are 2 heat settings available from 1200w to 2000w to control according to your requirement in both stationary and oscillatory motions.
The heater comes with safety features of over-heating and tip-over protection. These options will switch off the heater in any unwanted condition for your peace of mind.
The heater is featured with a carry handle and is designed in a compact way to use easily and you can move it from room to room.
6.    Klarstein infrared Heatbox 1500W Space Heater
This is a portable infrared 1500 watt space heater with remote control manufactured by Klarstein. The heater can produce 50% more heat than its traditional 1500W counterparts. It can heat a large room with an energy-saving feature with 2 heat settings. 
Tip-over and overheating protection safety features are also available. There is a built-in programmable timer up to 12-hours. Its wireless remote control and the adjustable thermostat allows you to set the temperature according to your requirements.
Main Features:
The Klarstein Heatbox infrared Heater is designed with 3 heat settings of high low, eco 1500/750/300W to ensure energy conservation.
There are four infrared quartz tubes to warm up your room faster and efficiently with a 12-hour automatic timer.
The heater is easy to use with a touch control panel, adjustable thermostat, and swivel-wheels to move it from room to room.
Its automatic shut-off option switch off the heater when reaching the desired limit of temperature. You don't need to worry about anything else. You can sleep, work or meditation with full peace of mind.
Final Verdict on Quiet Space Heaters
First and foremost, we look for a heater that is quiet or better still silent. Fortunately, the heaters available in the market are round about quiet or quiet by design. But there are many factors to keep in mind to choose the best. If we are talking about "quiet" it means that we are looking for heaters without any sound. But you must know that every heater has some sound.
Investing in-room space heaters is useful for your better winter. Before purchasing a heater you should know that what is out there. We tried to provide you with information about some of the top heater models and we hope that you will get the right product for your room.
The heaters described in our list can be used in both large and small areas to give you a cosy, warm and quiet environment. This article would provide you with all the information if you want to keep a place warm permanently using panel heaters or a portable heater to move room to room. Both options are available.
Another feature that you should keep in mind is safety settings. The products described in this article are featured with safety options in the form of overheating protection, tip-over, heat settings, etc. it will keep your children and pets safe. Moreover, always check the power socket and plug of your heater. If it is damaged, it could be a fire hazard.