When you add a conservatory to your house, it can be a beautiful addition to your home giving you a light, airy additional space. You get lots of glass on your conservatory roof, beautiful views and a place to retreat and relax while reading a book or catching a bit of sun in the summer.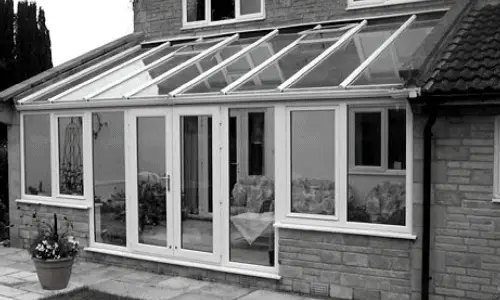 The problem is, despite the space being very beautiful, you can only enjoy it for only a few weeks each year. Apart from those few weeks,  all year round you might often be left trying to figure out the best way to insulate your conservatory roof.
If you are after a cheap quick fix to insulate your conservatory, you should get this conservatory insulation kit and install it using a hair dryer. It comes with a self-adhesive fixing tape to hold it in place and works well by preventing cold draughts and keeps the warm air in.
A South facing conservatory is usually exposed to the sun most of the time but even then may only reach pleasant room temperature for just a couple of hours each day.
Getting an energy efficient electric radiator is a start at solving the heating issues you might have in your conservatory.
My conservatory was installed by Anglian and I found that during the height of summer, it usually got too hot and during the winter, it was just too cold.
So much that I often couldn't imagine setting foot in it for any longer than a few minutes. Most of the heat needed to make a conservatory comfortable in the winter, tends to escape through the roof.
Unfortunately, all the glass that makes your conservatory so desirable can also a nightmare for insulating your conservatory and keeping the room temperature in check.
The glass or UPVC roofs and conservatory walls have very little insulation and as a result, any warm air you have will escape when you need it most.
The cold air also travels through the conservatory walls and glass roof, making your conservatory space uncomfortable and undesirable.
Having highlighted a few of the potential concerns associated with owning a conservatory, let's explore a few of the more popular and cheaper ways to help you insulate your conservatory roof.
Install Thermal Blinds or Curtains
Adding blinds or curtains to your standard windows and doors provides significant draft reduction and helps to keep warm air from escaping your home.
If you have no curtains installed with adequate thermal ability, you should consider getting these thermal effect conservatory blinds as I found that they work even better.
You should also consider keeping the room open during the day helps the room to warm during the day, either from the functions of your central heating system or from sunlight.
Once the sun begins to set and dusk arrives, closing the curtains will help to keep the heat in the room and reduce the passage of cold into your room.
The same idea applies to your conservatory roof.
Adding these insulated blinds or heavy (thermal-lined) curtains is an easy and affordable way to regulate temperature across all seasons.
In the winter months, it can keep the warm air in, and during the summer months, it can help to keep the space cooler by reducing the amount of sunlight that enters the room.
This is the least expensive option, but it can be a challenge trying to install thermal blinds depending on the shape of your conservatory and your overall do-it-yourself skill.
It is worth noting that massive temperature fluctuations on either side of the curtains can lead to condensation. This can then cause the curtains to get damp and mouldy if too extreme.
Upgrade your Existing UPVC Roof
Depending on the design of your conservatory, in some cases, the glazing bars that hold your roof in place can be expanded using white plastic hollow cladding.
The wider area will then allow you have an internal roof layer of lightweight foam roof panels to be added to your conservatory.
The thicker panels have better thermal efficiency and can better regulate the temperature extremes associated with summer and winter months.
XPS Foam Insulation Boards 1200 x 600 x 10mm -...
These insulation boards bring lightweight, stable performance that you would only find in expensive insulation boards. It's fire-resistant and has anti aging properties that protect against mold, mildew, dust contamination and pest damage.
Last update on 2023-11-19  / Images from Amazon Product Advertising API
Adding a second layer of thin UPVC under your existing conservatory roof can also have a similar effect by offering better insulation value.
An easy solution for someone just looking to upgrade the polycarbonate roof in their conservatory is to get this highly rated easy fix cladding. It comes in non-porous, mould free and fully waterproof panels and adds a classy look to your room without needing too much muscle.
For this method, it is worth noting a couple of important things. Before calling a contractor or heading to your local home supply store, you need to check your paperwork to see how old your existing UPVC roof is.
Most UPVC roofs only have a life expectancy of 10 years with some installers offering 15 years at a stretch.
If your roof is approaching the end of its useful life span, it may be more cost-effective to simply replace the entire roof with a thicker UPVC that has a higher insulative value.
While this may be an expensive solution in the short term it will likely save you money overall as you will not be installing a 'second roof' only to replace the entire roof yet again a few short years later.
Insulate a Conservatory Wall – Thermal Paint
Thermal paints are specifically designed to help with the thermal efficiency of your home.
Sale
Rempro Thermal Paint 2.5 Litres - Premium...
Walls painted with Rempro thermal paint feel warmer to the touch as the heat from your hand is being reflected back instead of being drawn to the colder surface of the wall and escaping.
Last update on 2023-11-21  / Images from Amazon Product Advertising API
Thermal paint is a wonderful way to insulate your conservatory. Just one coat of this paint will provide up to an R-value of 9, which is equivalent to the insulation value in double glazed windows.
It's also been proven that thermal paint has the ability to reduce the outside temperature by up to 3 degrees Celsius on hot summer days and winter temperatures by 1 degree Celsius.
Some manufacturers will refer to this type of paint as emulsion paint while others will use the thermal paint label.
Regardless of title, these paints are designed to act as a buffer between the internal heat generated in your conservatory and the cold roof and wall surfaces.
The effectiveness of these paints is widely debated but since roughly 25% of your household heat is lost through the roof, it never hurts to try some thermal paint – as a quick cost-effective option.
DIY Internal Conservatory Roof Insulation
An alternative to doubling up on polycarbonate panels is to get some rolls of bubble foil thermal insulation to install.
Last update on 2023-11-19  / Images from Amazon Product Advertising API
Bubble foil that is around 2 inches thick is usually sufficient and you just need to cut to size to fit your existing panel size.
If cut carefully, it can fit right in to the roof space in your conservatory and reduce heat loss significantly.
Another option is multifoil insulation.
This is a far less effective option as this type of insulation is designed to fit your roof panels. This type of conservatory insulation is said to deflect 95% of the sun's rays on hot sunny days, however, aesthetically they are not particularly undesirable.
Convert your Polycarbonate Conservatory Roof Panels or Glass roof
Another solution is to change your roof altogether. Now for some, this may be a desirable solution and for others not so much.
After all, part of the allure and pleasure associated with having a conservatory attached to your home is all the beautiful glass and the scenery in your back yard. However, the best way to improve the insulation value of your conservatory roof and enjoy the benefits of long-term temperature regulation is to convert to a solid roof.
Changing over to a solid roof will allow you to regulate the temperature in the room without the concerns about condensation that come from installing curtains or the second layer of polycarbonate.
Most conservatory frames can support a lightweight metal structure upon which a roofing material such as slate tile can be added.
Changing your roof to a solid roof also allows you to install a layer of insulation between the roof and ceiling of your room which will help with temperature regulation.
This is certainly the most long-term solution, but it does have negatives as well. It will remove some of your light in the room. Your roof panels will no longer be glass or UPVC and therefore not clear.
You will still have your conservatory walls but for some, the loss of the light in the roof may be quite undesirable. Also, if your conservatory is very old it may not be able to support the weight of a solid roof structure.
If that's the case, you'll then need to factor in the costs of installing steel beams
---
Does putting a roof on a conservatory make it warmer?
Conservatories are an excellent way of extending the living space in your home. They usually don't need to be heated during winter because it's typically insulated by double-glazed windows that keep out cold air.
However, if you've got a conservatory built before 1990 or so, there may not have been insulation installed in them – which means they could require some extra heating when it gets cold.
This is where putting on a roof over your conservatories comes into play.
It is one of the several ways you can make your conservatory warmer and improve the insulation value of your conservatory. Adding a roof to your conservatory is one way to do it.
This method of putting a roof on a conservatory does make it warmer but involves hiring a professional tradesperson to alter the existing roof space.
Adding a conservatory roof is likely a more expensive option to insulating, but if your budget allows, it will certainly be successful. On the other hand, there are several do-it-yourself options you could try which will reduce the cost associated with fixing the insulation problems in your conservatory space.
When you begin to plan this process, there are a few things you should know and should keep in mind.
The first thing to consider is what budget you have and how skilled you are working at heights indoors?
If you decide to get a quote from a professional, it will definitely cost more than if you do it on your own. The key thing is knowing if you are capable of doing on your own.
There are usually no building permits required from your local council to do internal work like this on your conservatory. But if you plan on altering any electrical wiring or physical structure, there may be associated permits that you need to get before your work begins.
If so, a do-it-yourself project may be a little more complicated should power cables or similar need to be re-routed.
How to Put a Roof on a Conservatory
The most common way to cover a conservatory is with glass. But there are other options, such as flat roofs which have become more popular in recent years.
Another popular alternative is tiled roofs and solid roofs which can be either pre-built or made on site.
Another option for covering a conservatory is to use an insulated roof which has become very popular and energy efficient in recent years.
It's also known as 'low e glass,' and it comes with the advantage of being lightweight so you won't need to build extra support and it is easy to put on top of the conservatory.
The main consideration when choosing the type of roof is the shape and size of your conservatory, but you should also think about how much maintenance it will need in future.
Plastic flat roofs are usually long-lasting, but they require regular cleaning to keep them looking good. This can be as easy as using a water hose and a long handled brush to remove any debris.
If you're concerned about this aspect then it might be better for you to choose another option for your conservatory's roofing material.
A summary of the steps to follow when you put a roof on a conservatory are –
Measure the space to calculate the amount of materials required.
Order the materials from nearby building contractors.
Assemble and install them with professional help if required.
Installation will involve putting timber beams in place to support the roofing material.
The special metal supports are then attached to make sure they don't buckle under pressure or cause any damage when it snows.
The insulation boards are laid on top of this, and covered by a layer of waterproof board which is screwed in place with galvanised screws.
The final step is to install gutters and finally clean up after you are done.
Final Thoughts
A conservatory is an investment in your home which likely comes at a huge cost to build. As a result, you want to be able to enjoy the room throughout the year if possible. Unfortunately, this is not always possible given the roof design of many conservatory rooms.
If the glass or polycarbonate on your conservatory is too thin, you are going to experience temperature extremes that make the room virtually unusable during much of the year.
Unfortunately, the cold winter months and the hot summer months account for most of the months in the year. So now you have a room that you paid for and cannot use.
There are several solutions available to make your conservatory space useful and desirable regardless of the outdoor temperature.
Solutions such as curtains, blinds and do-it-yourself insulation option offer a range of financial requirements and a range of aesthetically pleasing outcomes.
Other options such as adding a layer of UPVC or installing a newer, thicker polycarbonate roof are also possible and carry with them a range of pros and cons.
Finally, there is always the option of sacrificing the clear roof for the sake of vastly improved insulative value and overall energy and cost savings. Each situation will be unique and different and requires considerations such as budget, aesthetic desires and do it yourself savvy.
Regardless of your choice, in the end, there are ways to enjoy your conservatory irrespective of the weather on the outside of your home.