When winter and cold draughts arrive, for many of us, that means colder temperatures. The arrival of the holiday season can sometimes signal the arrival of snow and ice. Although we try to put off the inevitable, the turning of the calendar pages also coincides with having to turn up the thermostat.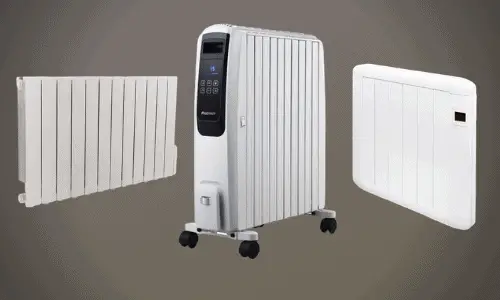 Energy efficient electric radiators are often looked at as an ideal heating alternative to help keep the costs low.
As often, turning up the temperature in our homes also coincides with the rise in running costs that come from the spike in our heating bills.
There are many different central heating systems in use in today's households ranging from gas central heating systems to electric storage heaters but unfortunately, they do not always work that well in keeping homes at a desirable temperature – despite your efforts at running your central heating efficiently.
There are several different methods used for heating homes in the UK, but before explaining the most commonly used heating systems – below are the two top rated free standing and wall mounted electric radiators.
Best Free Standing
Best Wall Mounted
Name
ANSIO® Oil Filled Radiator Heater 11 Fins 2300W...
Oil Filled Electric Radiator Thermostatic Wall...
Best Free Standing
Name
ANSIO® Oil Filled Radiator Heater 11 Fins 2300W...
Best Wall Mounted
Name
Oil Filled Electric Radiator Thermostatic Wall...
Last update on 2023-11-26  / Images from Amazon Product Advertising API
Energy Efficient Electric Radiators – Free Standing and Wall Mounted Radiators
So, what are some alternatives if your current energy-saving system just doesn't feel like it's enough? The aim is usually to try to figure out cheap ways to heat up your home, but what if those options still don't do the job required?
Should you be replacing storage heaters? Consider getting some panel heaters? Or maybe even get some fan heaters? Well, having used a number of the different options, I would suggest you add some energy efficient electric radiators to your wish list.
Energy efficient electric radiators are great, versatile heating solutions for your home. Obviously very popular as a massive 65% of the energy used in European households goes towards heating.
As a result, it is more important than ever to ensure your choice for heating your home is energy efficient.
Energy-efficient radiators can come with different features and different watts. First, they can be strictly electric or they might be oil-filled electric radiators. The elements in the pure electric radiator options can be expensive to run but will work well if you just need to take the cold edge off in a small room.
Oil-filled, portable and wall mounted electric radiators, on the other hand, are very energy efficient. Despite the electric bit in their name, they have a thermal oil reserve that stores heat and slowly releases it into your living space.
Unlike towel rail radiators that are restricted to be used in bathroom space, these efficient electric heating options can also be portable or wall-mounted and are often featured on many a buying guide.
Below are the top user rated options to consider if you need additional heating solutions for your home.
Freestanding Plug In Electric Radiators
Freestanding electric heaters allow for portability. Most are built on caster wheels of some sort, which allow for the unit to be moved from room to room and used where it is needed. Some of these units are made to resemble small fireplaces and others resemble classic steam radiators in appearance.
They are available in a variety of colours and sizes to accommodate all different room sizes and needs. Regardless of their style, these units run off electricity and make excellent energy-efficient adds to your existing heating system.
1) Ansio 2300W Oil Filled Radiator Heater
This 2300W radiator unit from Ansio has 11 oil-filled fins and three power mode options. Based on your needs the unit starts at a low end of 1000W and has a max output of 2300W.
Ansio 2300W Oil Filled Radiator Heater
This heater comes with many special features special features which include a Child Lock feature which disables all the buttons on the Control button to ensure safety around children
Last update on 2023-11-26  / Images from Amazon Product Advertising API
The Ansio unit can be controlled via two different means. First, the unit has a fully functional LED panel built into the unit which allows you to control the temperature settings and timer function.
Secondly, is a full-function remote control which allows you to adjust all the settings from the comfort of your chair. This unit also has an ECO mode which allows you to determine at what temperature you wish for the unit to turn off.
The desired temperature can be adjusted from 5 to 35 degrees Celsius. The timer can be set to run from one to 24 hours which allows you to be sure the unit is off when you are not home and on when you are.
There is also a built-in memory function which assures the unit keeps your last settings for ease of use. This Ansio unit also comes with several built-in safety features.
This includes a child lock feature which disables all the buttons on the unit. It also has a safety tip-over feature that shuts the unit off should the unit be accidentally tipped over.
Finally, it has an auto-off feature that shuts the unit off should it reach a designated temperature at which the unit begins to overheat.
2)
Netagon Modern Curved Electric Portable Oil Filled Radiator
The Netagon Oil filled Radiator is an oil-filled radiator with eight fins and three adjustable output settings. Where oil filled radiators are concerned, more fins results in increased heating capability.
Netagon Oil Filled Radiator
This oil filled radiator has advanced chimney construction which helps to speed up the circulation of hot air to ensure faster and more efficient heating than traditional oil filled radiators keeping your bedroom, living room, home or office warm.
Last update on 2023-11-26  / Images from Amazon Product Advertising API
The eight fins in this unit allow it to reach a potential output of 2000W for rooms up to 300 square feet. This particular radiator boasts advanced chimney construction.
This means the cold air from your room is drawn into the base of the radiator and is then channelled through the central portion of the unit where the fins are the hottest.
The air is then heated and channelled out at the top of the system. This creates a circulating effect in your room which is designed to heat your room quicker and more efficiently than traditional portable radiators. The Netagon radiator has three heat settings and a built-in thermostat.
The thermostat will regulate the temperature around the unit and turn the unit off when the optimal desired temperature in the room has been reached.
In addition to the thermostat, the unit has a 24-hour timer, which allows you to schedule the unit to switch on or off at any time you wish during the day or night.
This is beneficial if you want to make sure the unit is turned off when you leave for work during the day and turned on when you arrive back home.
Safety is often a concern when it comes to portable heating units and this unit considers that. The unit is equipped with overheating protection, safety shut off switch in the event of a tip-over and automatic thermal shut off in the event of overheating.
Finally, the unit is big on heat but compact which is desirable when considering integrating a portable radiator into your home.
3) Pro Breeze 2500W Digital Oil Filled Radiator
This Pro Breeze radiator unit has a few similarities and a few notable differences. First, the similarities. This unit is also oil-filled and has three different heating outputs. It also has a 24-hour timer and many important safety features built into it.
Sale
Pro Breeze Oil Filled Radiator
With 10 heating fins and 3 heat output settings of 2500W, 1500W & 1000W, this Pro Breeze Oil filled radiator is amazing at heating up rooms over long periods of time. It comes pre assembled and fitted with 4 easy-roll castor wheels
Last update on 2023-11-25  / Images from Amazon Product Advertising API
As a reminder some of the outstanding features include, overheating protection, safety shut off switch in the event of a tip-over and automatic thermal shut off in the event of overheating.
Finally, it has the same advanced chimney circulation as the smaller 2000W. But that is where the similarities seem to end.
The 2500W is a larger unit. This unit has 10 oil-filled fins which mean its output capability is higher. This unit maxes out at 2500W as opposed to the smaller 2000W unit.
This also means the low end is higher with a starting output of 1000W instead of 800W which may be more than you need for a smaller room. The 2500W has two different options for control.
First, the unit has an LED panel built into the side which allows you to control its heat settings.
Another feature of this unit is the ECO control option which links to the thermostat. The ECO feature allows you to tell the unit at which temperature you want it to turn off. The 2500W can also be controlled via wireless remote control.
The remote unit gives you all of the same control features like the onboard LED panel without having to leave the comfort of your couch. This unit is also a little larger than the 2000W.
Wall Mounted Electric Heaters
Wall-mounted electric heaters differ from the portable version for one main reason they aren't portable. These units are best for use in a room where you frequently need a little extra heat.
These units are slim and blend well into the décor of your room. Similar to the portable units, they are oil-filled which means they offer significant heat output but remain energy efficient to use.
1) Warmehaus Oil Filled Electric Radiator Thermostatic Wall Mounted Heater
The Warmehaus Oil Filled Electric Radiator is available in a few different sizes depending on your heating needs and the size of your room.
Warmehaus Electric Radiator
This oil filled electric radiator wall-mounted unit is equipped with a 7 day/ 24-hour timer allowing you to set on and off times for the entire week.
Last update on 2023-11-26  / Images from Amazon Product Advertising API
The 577 x 1017m unit has a maximum of 2000W output. Its smaller sibling measures 577 x 699m and has a maximum output of 1200W.
There are also units available that have maximum outputs of 800W and 1500W, so this manufacturer clearly has products that meet all heating needs for all room sizes.
This unit has a built-in LCD panel on the side which allows you to control its various features. The LCD panel also shows the current temperature the unit is set to.
At only 80MM deep the radiator is designed to blend seamlessly into your current décor while adding the extra heating you need during the colder months.
It has a temperature range of 7 to 35 degrees Celsius and a built-in room temperature sensor which is accurate to +/- .5 degrees Celsius. It has 5 different heating modes and a lock function on the LCD timer to protect from accidental use by children.
2) Economy+ Conservex Electric Radiator
This Economy Plus energy efficient electric radiator is small in size but still can put out 1250W of heating power.
No products found.
Designed to fit smaller conservatory size walls or under window areas, this ultra-slim radiator measures 390mm H x 972mm W x 73mm D which makes it notably smaller than similar products.
This unit has a programmable timer that allows you to program the unit to run at selected times 24 hours per day and throughout all 7 days of the week. Similarly, the thermostat is programmable to a specified temperature at which the unit will turn off.
This radiator can be directly plugged into the homes' electrical socket allowing for a very quick install and use. The unit is controlled by a fully functional programmable panel located on the front face.
This wall mounted electric radiator is very easy to install and can be installed by the homeowner as opposed to needing an electrician to wire the unit into household power.
Installating the unit only requires a level, measuring tape, drill and the supplied brackets to install.
3) Adax NEO WIFI Modern Slimline Electric Wall Mounted Panel Heater
This Adax wall mounted radiator (See Price on Amazon) is excellent for those who want their home heating system to be as easy and automated as possible.
Last update on 2023-11-26  / Images from Amazon Product Advertising API
First, it has a slimline design that makes it easy to integrate into any décor. The unit comes in several different sizes, but all models are only 330MM high and 87mm deep.
Depending on your desired output wattage, the width of the unit can vary from 565mm (600W) to 1403mm (2500W). It also comes in a variety of colours including white and silver.
This unit is designed to be highly energy-efficient. It is controlled entirely by Wi-fi and can be adjusted or turned on/off via the app from wherever you may be.
The unit is also equipped with an open window detector, so you are not wasting valuable heat by allowing it to simply go right out the window. A fully programmable timer allows you to set up a full weekly program on an hour to hour basis.
If you have multiple heaters you can control them as a group or on an individual basis through the app. Where safety is concerned, the unit comes equipped with child locks and overheating protection.
This unit is easy to install and does not require an electrician to integrate the unit into household power. Installation requires setting up the supplied wall mounting bracket system and plugging the unit into an existing wall outlet.
The unit has a maximum surface temperature of 75C and requires only 150mm clearance above and 50mm clearance below the heater which allows it to be placed in more locations throughout the room than its competitors.
---
Seasonal heating bills are an unavoidable aspect of everyday life.
If your current heating system is not working to a desirable level it can add stress and undue expense onto your fuel bills each year as you further turn the thermostat up to accommodate your needs.
Energy-efficient radiators can be an excellent and cost-effective addition to your home heating needs if the proper one is used in your home. There are many different varieties and sizes available to suit households of all different sizes.
Utilisation of a cost-effective supplementary radiator such as these is certainly a desirable alternative to installing a new heating system or turning the thermostat up further in hopes of producing more heat.
Wall Mounted Oil-Filled Radiators
Wall mounted oil-filled radiators are the perfect solution for homeowners who want to save on their heating bills without sacrificing comfort.
Wall mounted oil-filled radiators offer all of the benefits of traditional radiator systems, but with a variety of added features that make them easier and more cost effective to install.
One benefit is that they can be installed in any room or hallway, eliminating the need to run pipes through walls and ceilings. Another is that they don't require an open venting system, which means you won't have to worry about heat loss caused by drafts or cold spots at your home's perimeter.
The installation process will also be quicker than it would be if you were installing a traditional radiator system because wall mounts only require a single wall outlet. And because oil-filled radiators are also made of aluminum, they won't corrode or rust like other radiator types can
Below is a list of some additional benefits of installing wall mounted oil-filled radiators in your home:
They run quietly
Traditional radiator systems can be noisy because they rely on a pump system that creates a humming or vibrating sound. Wall mounted oil-filled radiators aren't attached to this type of pump, so there is nothing inside the unit making noise
They offer quicker heating times
Some types of radiators can take a long time to heat your room because they rely on the movement of the air inside the room to distribute heat. Oil-filled radiators, however, offer more consistent and even coverage because the heated thermal oil inside the radiator heats up quickly
They are energy efficient
Additional Benefits of Efficient Electric Heaters
If you are in the position where the current heating system in your home is getting older, then chances are you already know that it's time for a change.
Or, maybe you have noticed that your electric central heating system simply cannot comfortably heat your home, and you find yourself bundled up on the couch in a snuggie, under a blanket just to stay comfortable.
Unfortunately, each time you turn on your heating, it costs money, and the cost of heating your home during the colder months has certainly not gone down in recent years.
This increase in cost has probably led you to wonder what the most efficient heating method is for the living space in a large room, apartment or house.
There are many benefits to energy-efficient radiators, the first of which is cost savings. Heating systems in older homes often operate at less than optimal efficiency when it comes to annual fuel utilisation.
This means you are losing heating potential but still paying for the fuel your system consumes.
Energy-efficient heaters are much more efficient and will help you save on heating costs in the long run. Energy-efficient heaters have programmable thermostats. This means you can tell the heater how warm you would like the room to be and it will shut off once the room reaches optimal temperature.
This not only conserves energy but conserves cost. Some more advanced units even have Wi-fi capabilities so you can control them while you are away from home allowing you further control over your heating costs.
Heating Systems in UK Homes
As promised, let's now explore a few different heating systems available for heating up homes in the UK.
Boilers come in two different forms. There are steam boilers which we will discuss next, and hot water or hydraulic boilers. A hot water heating system is the type of system being described when someone talks about a gas fired hot water heating system.
An oil-fired forced hot water heating system is a collection of parts and pieces which heats your home by first heating and then circulating hot water through heat-radiating devices (radiators) located throughout the living space.
The main heating element of the system is your boiler, which is steel, copper, or cast iron 'box' that heats up a hot water tank.
This heating boiler is connected to a system of pipes (and radiators and baseboards) that run throughout the home. The same water stays in the boiler and is circulated by a pump, so heat is delivered to your rooms.
Modern hot water heating systems use one or more circulator pumps to move hot water from the boiler, through the radiators (or baseboards), and then back to the boiler for reheating once the heat has been expended.
A steam boiler delivers heat to the living area in the form of steam as opposed to hot water as with the hot water system. The boiler literally 'boils' the water to the point at which it vapourises.
Once the water is vaporised, the steam is sent up through steam riser pipes and into the steam radiators that are placed throughout the living space.
This is possible because steam, which is hotter and less dense than air, rises through convection into the piping system. One clear way to tell if you have a steam boiler system is to listen to your radiator.
If your radiators have valves which hiss and let air escape when the heat is turned on, then there is a good chance your heat is being delivered through the steam circulating in your pipes.
A steam boiler has controls that monitor the pressure within the unit, as well as the boiler water level and the burner operation for safety.
Additional safety controls are present on each radiator, which allows you to control the amount of steam escaping from the radiator.
A furnace or warm air heating system provides heat using vents that flow out of the ceiling, wall, or floor supply registers.
Modern air furnaces utilise a blower that circulates cooler room air through return air registers, into the heating furnace and then back out into the occupied space through the heating supply registers.
These systems are sometimes called forced hot air systems.
Hybrid or mixed systems typically convert hot water to warm air by using a heating boiler. Once the water is heated by the boiler.
A fan coil unit blows room temperature air across the hot water as it circulates through the coil. Mixed heating systems are often used in the residential setting as a backup heating method or to make use of air ducts and blowers.
They can also be used in situations where the ducting is shared by cooling units during the summer months. Regardless of the type of system, you have installed, there is a chance the central heating system is not capable of heating your home to the level you desire.
Wood stoves and fireplaces
Although wood stoves and fireplaces may provide a more even heat distribution than some central heating systems, their main drawback is that they are not practical for heating many homes
Some people use electric baseboard heaters; however, this would be more of an emergency method of providing additional warmth to your home.
If you live in a colder climate, you might want to consider insulating your home and adding storm windows.