For those people who are really fond of fishing, staying away from their angling rod is usually very difficult during the winter. The cold weather doesn't really get in their way when it comes to fishing in the winter. The most important thing to keep in mind while fishing in the winter is to keep yourself warm and dry. It goes without saying that if you get your clothes wet, then it is going to spoil your whole fishing experience.
So how do you keep warm when fishing? The easy answer when you speak to people will be to just say 'layer up'. That will not always work though. There's a skill to being outdoors near a water body and staying warm.
One of the advantages of fishing in the winter is that most of the people prefer to stay in their homes and not go for fishing, so the winter fishing season is mostly less crowded providing you with the opportunity to get the best out of your fishing experience. To take advantage of this fact, there are people who are smart enough to go out fishing in winters with proper clothing on.
The key is to learn to keep yourself warm during this time of the year and there are many ways to do so. In this article, we are going to have a look at the ways that can help you enjoy your winter fishing without catching the cold and getting wet. The first and the basic thing when going for fishing is that you dress up at home before leaving for fishing as it is going to help you pre-warm yourself.
Dress up in layers
This is the most important thing to do before going out for fishing in cold weather. Dressing up in layer helps you to add more clothes if needed and also to remove cloth layers if you start to feel a little too warm and sweaty from inside the clothes.
Baselayer
This is the first and the primary layer of clothing you should put on. This layer sticks to your body and plays a very important role in keeping your body warm as it is the first level of clothing after the undergarments you wear. This base layer helps your body in maintaining its temperature by insulating your body's natural heat and preventing it from going out.
This layer must also be capable of absorbing the moisture from your body in such a way that you don't get sweaty from inside because this is really going to irritate you. Nowadays there are a lot of options you can choose from while looking for the right gear for winter wishing.
Helly Hansen Men's Hh LIFA Stripe Crew Baselayer...
Our iconic, original piece from Helly Hansen, a visual trademark and recognition of the brand / Made of 100% LIFA fabric...
Suitable to use as a single layer during warm months or as a base layer during winter / Your companion for running,...
Last update on 2022-04-25  / Images from Amazon Product Advertising API
The best you can have as the first layer is the thermal or compression clothes as they hug your body in a way that it feels like your second skin and stop the cold from getting in. this layer sort of insulates your body and it makes a huge difference. There are many brands and companies that offer thermal and compression shirts and tights so finding one shouldn't be a big deal for you.
Second layer
This is the layer that is also going to play an important role in your winter fishing experience as this layer will keep your body heat in and also stop the cold from getting in and reaching your body. You can choose between fleece jackets, sweatshirts, or wool jumpers.
You can also wear hooded shirts that are warm enough for you.
As for the second bottom layer, you can wear jeans or insulated nylon pants as they will effectively help you keeping the cold out and keeping the warmth of your body intact. You can also wear polyester clothes in this layer as they help in keeping the moisture away.
Outer layer
After dressing up properly in the first two layers, the third and the outer layer should be focusing on not letting the water, wind or snow in. the outer layer is the exposed layer to the open cold air so it is recommended that this layer should be water-resistant so your clothes don't get wet due to water, snow or rain.
Mountain Warehouse Fell Mens 3 in 1 Water...
Water resistant - Treated with Durable Water Repellent, droplets will bead and roll off the fabric
Detachable Inner Jacket - This clothing can be worn on its own or with the outer
Last update on 2022-04-25  / Images from Amazon Product Advertising API
This layer must also be a windbreaker for you. The clothes that you can put on in this layer can be the bibs instead of normal bottom wear as they come higher on your body than the regular bottoms and their purpose is to keep the cold and water out.
Also, shell jackets are the way to go in the outer layer and make sure that the outer layer has to be waterproof because this layer is the first defence for you against the cold wind or water in case of rain.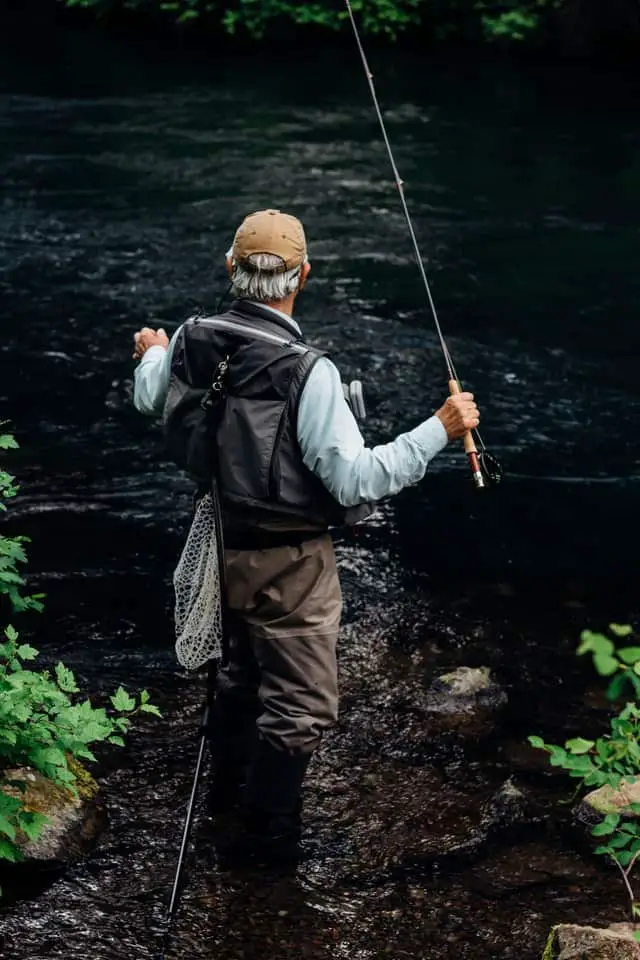 Insulated socks and shoes
Taking care of your feet while out in the cold fishing is really an important task because even if you are all packed from everywhere else if your feet are not warm it can get quite irritating for you.
Choosing a warm, insulated and right pair of socks is the key to keep your feet warm. You can even double up your socks in case one pair isn't enough to keep the cold away. The shoes that you should choose must also be insulated and they better be water-resistant.
Your feet don't move much while fishing but there is always a chance of your boots getting wet and you have to choose such pair that keeps the cold and water out.
Insulated gloves
You have to keep your hands warm so they don't get numb because after all, you are going to use your hands more than any other body part while fishing. An insulated and warm pair of gloves is a must-have for you.
It will be a lot better if the gloves are water-resistant too so as to not let the water in and making your experience nice and smooth. You can choose from a lot of options available in the market that contain the capabilities I described above.
When choosing the gloves, just make sure that you get three to four pairs if you are choosing light and thin gloves.
Taking care of your head
Keeping your head warm and preventing it from cold isn't really a big deal. All you have to do is wear a nice and warm stocking cap or a beanie or whatever you prefer. The key is that your head doesn't get cold and a warm head and ears will help you in being comfortable enough out there.