As the winter approaches and the temperatures drop and get cooler, you might want to know how to dress appropriately to keep yourself warm when wearing a suit. Whether you are going to the office, an interview, a formal meeting or a dinner party, wearing a suit can be a challenge for you in cold weather. You can't really keep yourself warm if you wear a normal suit like you would wearing it in the summer.
There are a number of things that you need to be aware of when wearing a suit in the winter. It may seem a little difficult to wear a suit and still keep yourself warm but if you are prepared for the cold and have the correct clothes on, you won't be bothered by the cold weather.
In this post, let's have a look at some ways in which you can keep yourself warm while wearing a suit in the winter.
The Right Suit Fabric 
The suit that you choose to wear during the winter cannot be the same as what you'll wear in the summer. Even if you have a favourite suit that you like wearing to the formal events, it just won't cut it when it's cold.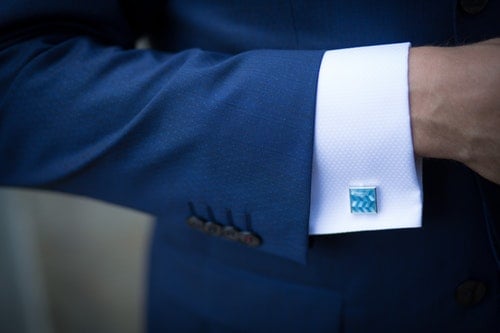 The smarter choice will be to choose a suit made with a fabric that is ideal for the winter like insulating wool, flannel or tweed. I mean, tweed is worn by Scottish men in the height of winter, so you can't go wrong with it. This will ensure that your body stays warm and your body temperature stays regulated. Adding a thick undervest beneath your shirt will also help you stay warm in your suit.
A Proper Base Layer
If you are dressing up for a formal event that will be hosted outdoors and you know it'll be cold, you should consider wearing a base layer beneath your suit. These are often thermal or compression-type t-shirt and tights that will ensure your body warmth. This is a form of layering that is a tried and tested method for dressing up in the winter so you should always benefit from it while wearing a suit. The compression base layer is in direct contact with your skin and acts as a second skin layer for you.
[content-egg-block template=offers_tile]
Now when you put on your dress shirt and trousers, you will feel an additional warmth from the base layer beneath. This layer is usually very thin, stretchy fabric, so it won't alter the fit of your dress shirt and trousers.
Wear thick socks
Usually, people in suits are used to wearing thin socks that go work great in the summer but not in the cold weather. You should make sure you wear a pair of socks that is thick enough for you to keep your feet warm. You can wear woollen or thermal socks in order to prevent your feet from getting cold or you can always consider doubling up your socks.
Wear a Hat
Most of the time people choose not to wear hats when wearing a suit, this is sometimes for fashion reasons or the climate is too warm to wear one. In the winter, however, it's always better to wear a woollen hat to keep your head warm.
As much as possible though, remember the etiquette of wearing a hat. Don't wear a hat in a meeting or a formal event. Just wear it on the way to the event or keep it on if it's an outdoor event like watching cricket.
Wear a Scarf
Wearing a scarf is a great way to ensure that your neck and chest is not exposed to extremely cold air and that it is warm enough for you. Scarves come in many designs, colours and sizes and you can choose one according to your taste and needs. There are a lot of ways you can tie your scarf around your neck or drape it over your shoulders and still look professional. Some examples of how to wear a neck scarf with your suit are shown in the video below.
Wear Gloves
Like your feet, your hands will also need to be nice and warm to help your body cope with the cold weather. A woolly thick pair of gloves will do the job for you. It can be a bit irritating if your whole body is warm but your hands are exposed to cold wind. Good thermal gloves solve this problem and allow you to insulate every exposed part on your body. A recommended pair of thermal gloves to wear with a suit are this pair of sheepskin driving gloves.
Wear a Warm Long Coat
Apart from the coat of the suit that you are wearing, you can wear a long overcoat on top to make sure you remain warm while outdoors and get to enjoy your event. Choose an overcoat that is purely made from wool or a derivative and is thick enough to fulfil your needs.
The length of this coat should be somewhere near your knees. Wearing a long overcoat above your attire also looks elegant and stylish. Just keep in mind the overcoat should be loose enough that it doesn't disturb the fitting of your suit.
While choosing what to wear as you get dressed up, avoid wearing accessories that don't match the suit you are wearing. Make sure that you are wearing proper and matching colour patterns. The hat, gloves, socks, scarf everything has to be matching the colour code and patterns overall.